The Husqvarna YTH22V46 is a riding mower (also known as lawn tractor) that has some serious power. In fact, I have seen few if any lawn tractors that have comparable power. Husqvarna has a great line of products that I have reviewed extensively.
Today, I will break down all of the beautiful features of this mower and compare it to the average lawn tractor. Let's get started!
Jump Ahead
Why we review lawn tools
The reason we started this website in the first place was because we had so much trouble trying to find reasonable, understandable, honest reviews for lawn equipment. And it's not cheap! After hours and hours of research, trying products and returning them, and messing up our yards – we started this site.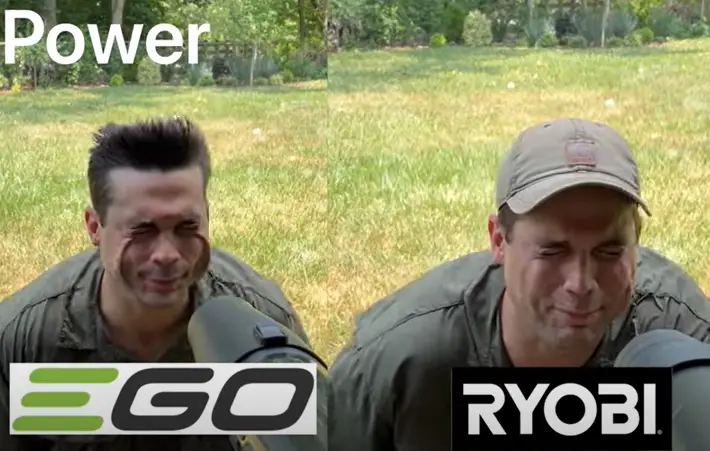 As people who had to learn the hard way, we want you to know exactly what you are signing up for before you purchase a piece of equipment. That's why we are committed to providing honest, easy-to-understand reviews that mean something.
We put together a list of the top Husqvarna riding mowers if you want to read more!
Husqvarna mowers
Husqvarna has a reputation for producing high-quality, commercial grade products. They make chainsaws, blowers, mowers, trimmers, snow blowers, edgers, pressure washers – basically any outdoor tool you would want to use around your home. They stand out with their bright orange color scheme. When driving around town, you may notice some of the trailers parked outside people's homes have Husqvarna products loaded all over the place. The folks who use their products as their full-time job absolutely swear by them.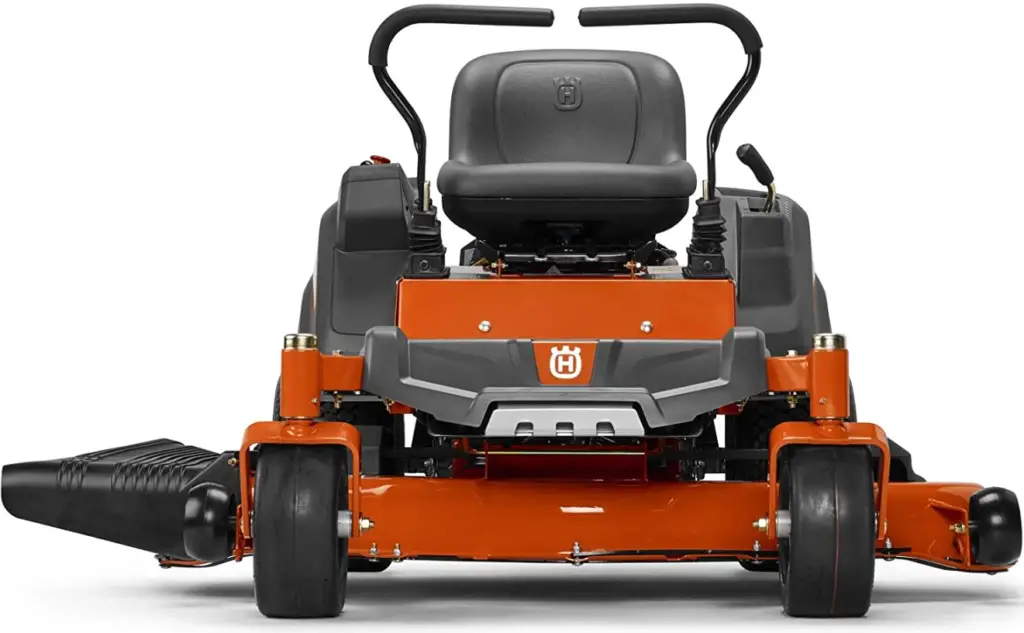 They have a pretty exhaustive list of both zero-turn mowers and riding mowers. The main difference between zero-turn mowers and lawn tractors (like the Husqvarna YTH22V46) is yard-size. If you have more than an acre and a half or so, I would spend the extra money and get a zero-turn mower. However, if you are within zero to one and a half acres, which many of us are, then lawn tractors are exactly what you should be looking for. Let's get started.
The Husqvarna YTH22V46: Benefits and Features
I will start this review off by saying that the YTH22V46 is truly a beast of a lawn tractor. I mentioned it in the opening paragraph, but for context most lawn tractors have upwards of 18hp engines and a 36-42 inch mowing deck. Keep that in mind as we look at the below features.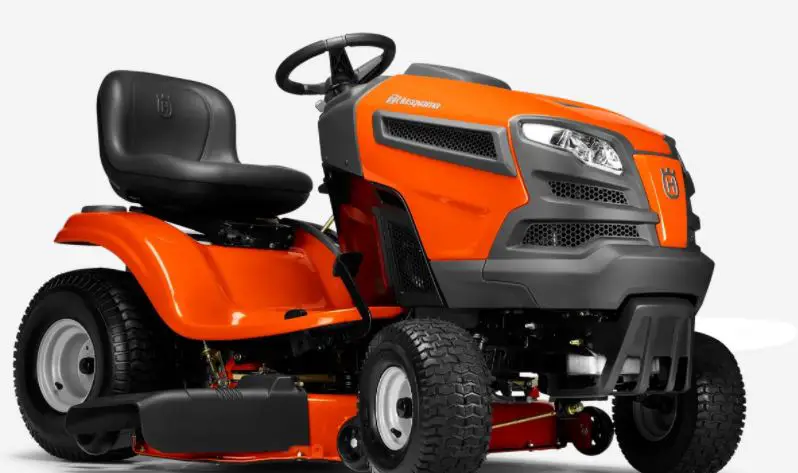 Power
As I just mentioned, the higher-end lawn tractors have somewhere between sixteen to eighteen horsepower. They will sometimes have a Honda engine or their own brand of engine that does not have a great reputation. 
The Husqvarna YTH22V46 has a 22 hp Briggs & Stratton engine. The power on this rivals most zero-turn mowers that have 50+ inch decks and weight twice as much. This thing absolutely rocks and rolls. I have reviewed a few mowers now with Briggs and Stratton engines and I have caught on to a theme. Briggs and Stratton engines are on all of the most powerful mowers in their class. There is one on a big Toro mower I reviewed as well as a Husqvarna zero turn mower I reviewed. 
As far as lawn tractors go, I thought when I reviewed the Husqvarna YTH18542 that it was the most powerful lawn tractor in its class. Well, I was wrong. This is the same model but just with 3.5 more horsepower and a 4 inch wider deck. Needless to say, basically any size job you will do with less than two acres of land can be quickly and easily accomplished with the YTH22V46. 
Durability
The Husqvarna YTH22V46 is just like the rest of Husqvarna's products. They are a resilient, long-lasting manufacturer and are lauded in almost all of their product lines. One thing I love about this mower in particular is the cast iron front axles. This is standard in the YTH series, but a feature that makes them super durable and long lasting.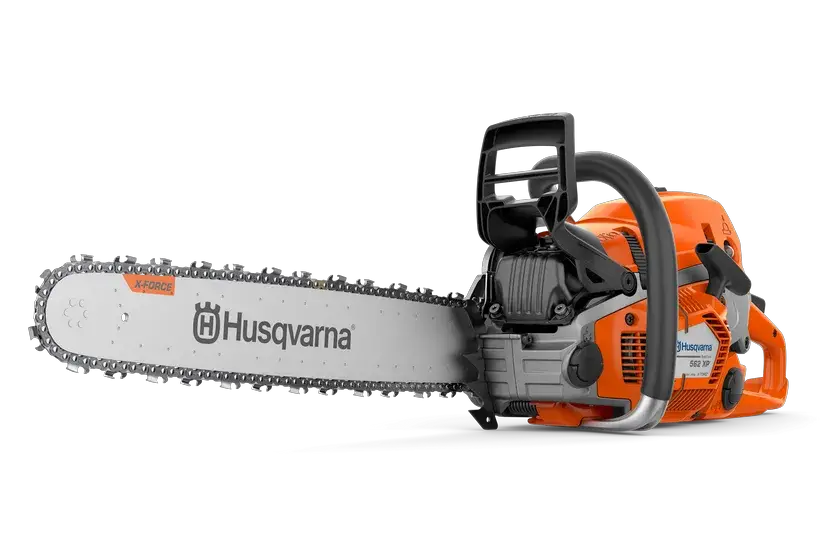 Another thing you will notice when you sit on this mower is the reinforced cutting deck. The deck looks serious. It has super thick metal and anti-scalp wheels that will protect your yard from getting a big ring cut into it when going uphill
These mowers also have a 3 year bumper to bumper warranty, meaning Husqvarna truly stands behind the quality of their work. As I mention in other posts, make sure to do as much wear and tear as you can in those first three years so that any potential problems expose themselves under warranty. 
Maintenance
Something I did not like on the smaller YTH18542 is that it did not come with an hour meter. Naturally, it is available on the YTH22V46. The hour meter and oil change reminder is super helpful for those of us that zone out while mowing and do not want to have to keep a log of hours to remind us of when we need to do an oil change.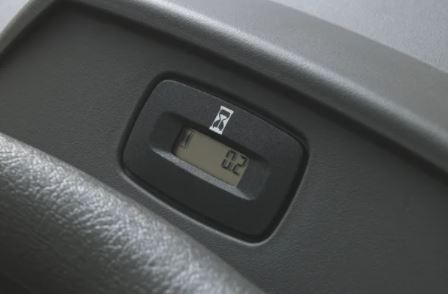 While this mower does require air filter replacement and oil changes, it comes with a hydrostatic transmission. Hydrostatic transmissions require significantly less (if any) maintenance and last much longer. Not all lawn tractors come with hydrostatic transmissions, so this is a huge plus on the maintenance and durability of this mower. 
Drivability and comfort of the Husqvarna YTH22V46
As a Husqvarna lover, I have to mention how great of a job they do keeping the operator in mind. They always find a way to include small things in their mowers that others just do not seem to think of. 
A few really simple and silly examples on the YTH22V46 include things like a cup holder and a softer steering wheel. While these are small examples, they have a huge impact. Firstly, when you have a large area to mow it means you are out in the yard for a significant amount of time. Having a beverage holder is overlooked but super important. 
Likewise, a softer steering wheel and an adjustable high seat back really help the experience of the ride. These mowers are machines and vibrate. I do not think you can appreciate the reduced vibration offered by the padded steering wheel until you have tried it and realized the difference.
Husqvarna YTH22V46 price and value
Again, I continue to be amazed at the prices on Husqvarna products (although inflation is killing all lawn tractor prices). The Husqvarna YTH22V46 comes in at around $2,600. For comparison, the Cub Cadet I reviewed comes in at about $100 more with a smaller engine and deck size. It is honestly cheaper than the less powerful YTH185V42 that I reviewed from Husqvarna.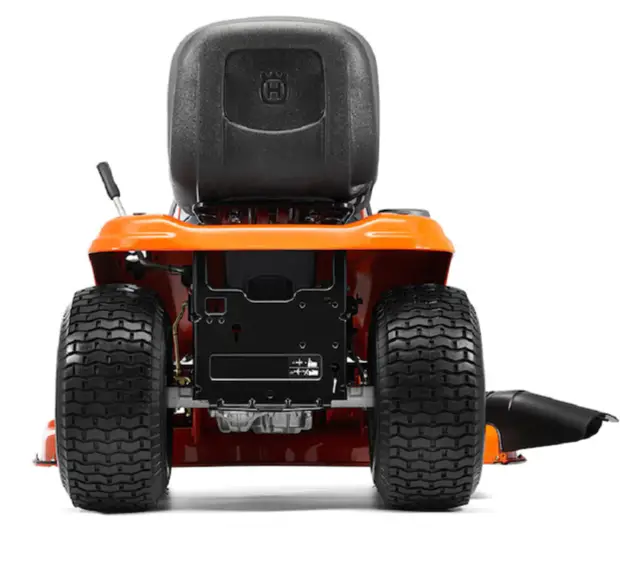 Husqvarna products are durable, comfortable, a great user experience, and super powerful. I highly recommend this lawn tractor if you are in the market.
Curious at how the price stacks up? Check out our lawn equipment cost guide.
The official review: Husqvarna YTH22V46
| | | |
| --- | --- | --- |
| Feature | Husqvarna YTH22V46 | Comparable lawn tractor |
| Difficulty to use | Less difficult and more comfortable | Average |
| Durability | Above average durability | Average durability |
| Maintenance | Less maintenance (hydrostatic transmission) | Average maintenance |
| Value | Super high value | Medium value |
| For lots <10,000 sq. ft | Not recommended | Would not fit |
| For lots <1 acre | Highly recommended | Highly recommended |
| For lots >1 acre | Highly recommended up to 2 acres | Highly recommended up to 2 acres |