Smokeless fire pits are an absolute phenomenon. I remember trying to pull a move on my high school sweetheart around the bonfire and getting blocked by excessive smoke randomly blowing in my direction.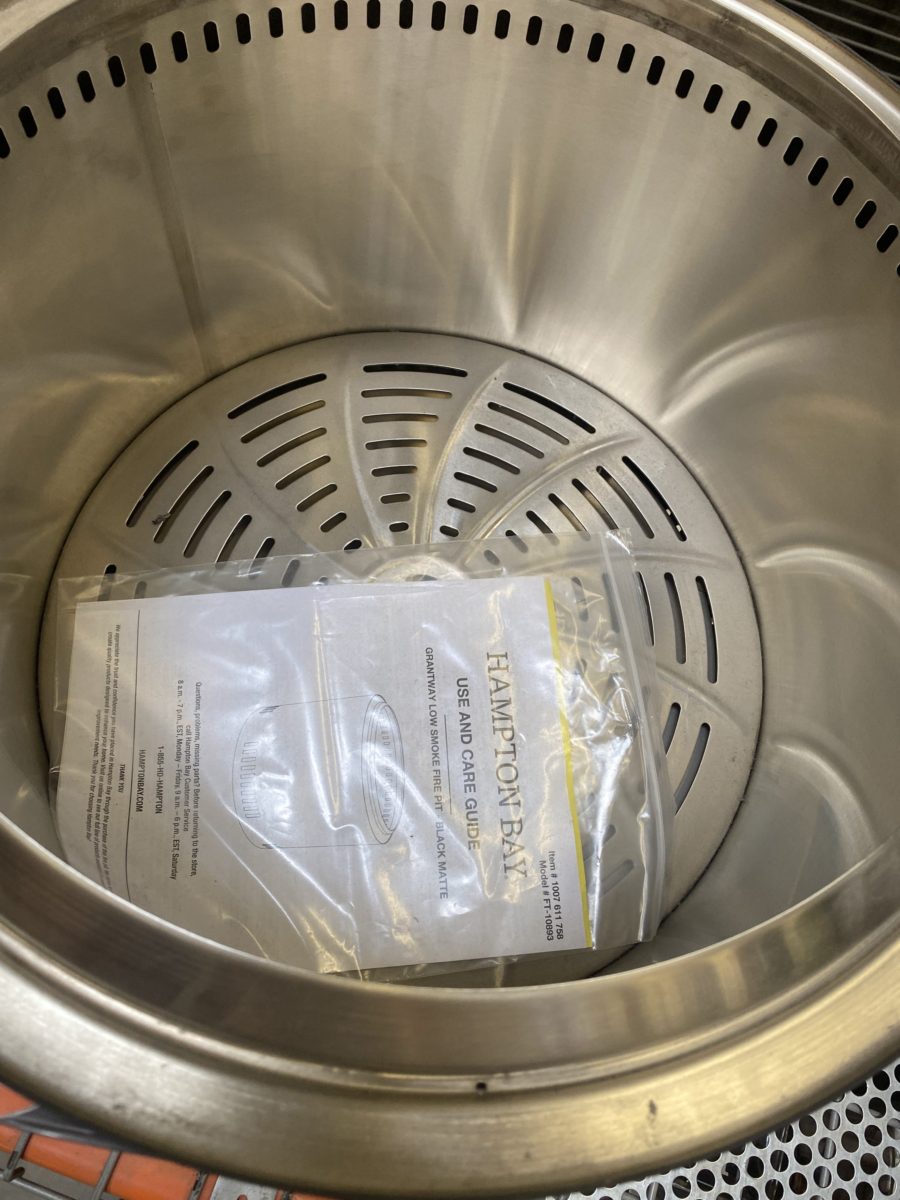 Thus, my love for smokeless fire pits. Not only do they help you elevate your game (literally), but they are great for kids, folks with asthma, or really anyone just trying not to get demolished by whatever smoke comes pumping out of the fire.
Out of this deep spite and hatred I have for super smoky bonfires, I started researching smokeless fire pits. After too many hours of research, I found some really good ones and went and grabbed one from Home Depot.
Here's my list of the best smokeless fire pits:
Breeo 24 inch Smokeless Fire Pit
Tiki Smokeless 25 inch Patio Fire Pit
East Oak 29 inch Smokeless Fire Pit
How do smokeless fire pits work?
Smokeless fire pits work through a clever airflow system that ensures a cleaner burn. These pits incorporate features like well-placed air vents that pull oxygen into the pit exactly where it's needed in the fire. The cool part is that the smokeless fire pits actually burn much hotter than traditional fire pits, which burns off the smoke. 
The magic lies in getting the right balance between fuel and air, which leads to a hotter and more complete burn. This innovation not only minimizes smoke but also enhances the heat output, making smokeless fire pits an environmentally friendly and efficient choice for outdoor heating and ambiance.
That being said, you'll likely use more wood when using a smokeless fire pit, but you'll get a more thorough and complete burn of that wood. Overall, they make unique outdoor patio heaters.
My experience with smokeless fire pits
Ever since I switched to a smokeless fire pit, I have become an absolute snob. Fires with smoke now insult me and I refuse to be in their presence. In fact, since I bought a  smokeless fire pit, I haven't looked back. I truly feel like a Tesla driver.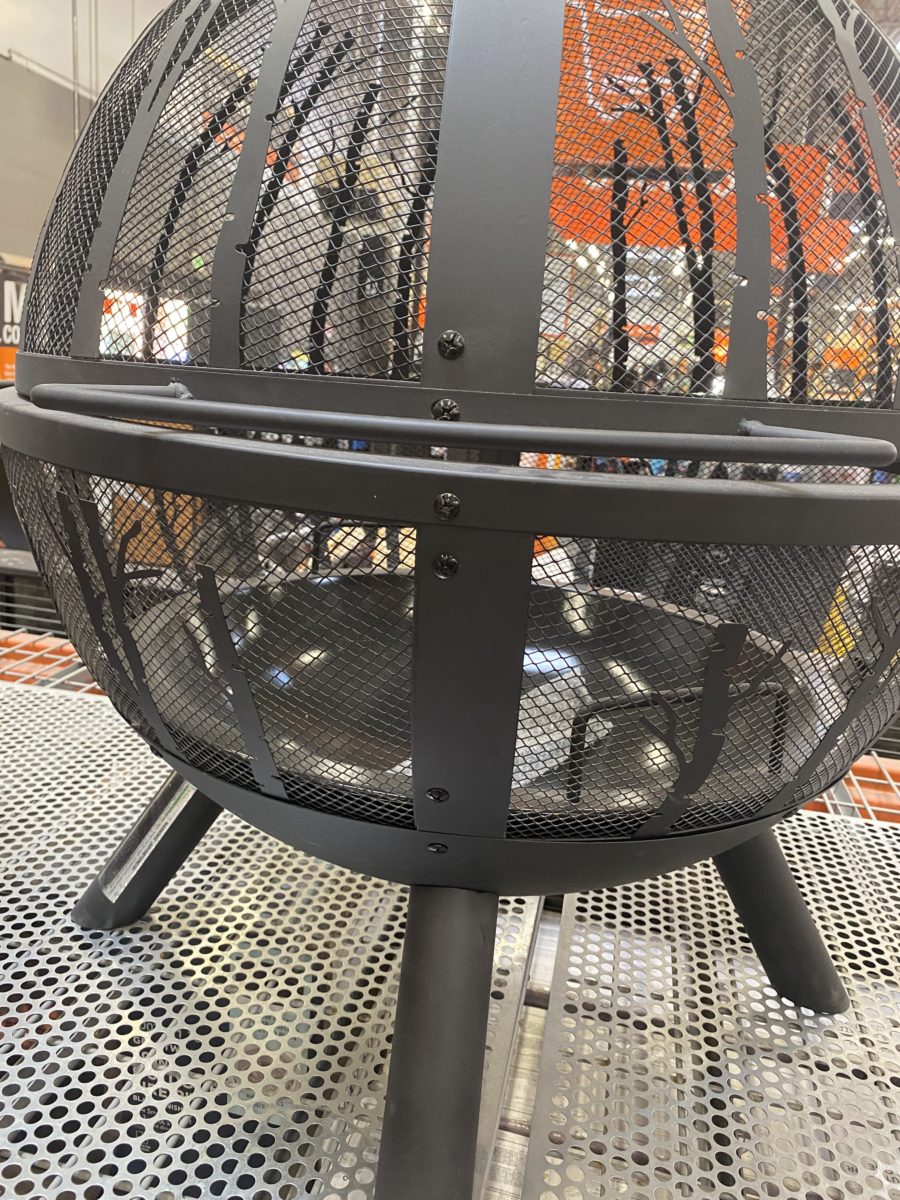 Honestly, I didn't even know these things existed until I went to my friend's house and I saw this cool cylindrical fire pit. I was ready to buy it without even knowing it was smokeless. Then when he told me there was no smoke, I almost stole it.
Ranking the 3 best smokeless fire pits
When I was shopping for a smokeless fire pit, it really came down to these three as my favorites. I've included the one I got, the one my friend had, and then a nice honorable mention that I would recommend to anyone who asked.
Breeo X Series 24 inch Smokeless Fire Pit
The Breeo X series 25 inch smokeless fire pit takes the top spot because of its aesthetic appeal. This thing is a dang beauty and it is flexible, too. As a reminder, smokeless fire pits work by inviting more oxygen in, recycling and re-burning the smoke, and burning hotter to the point of not having smoke. 
One thing that really set this apart for me is that you can buy a separate grilling system to convert this to a sweet over-the-fire grill. That is what made me feel truly like a cowboy.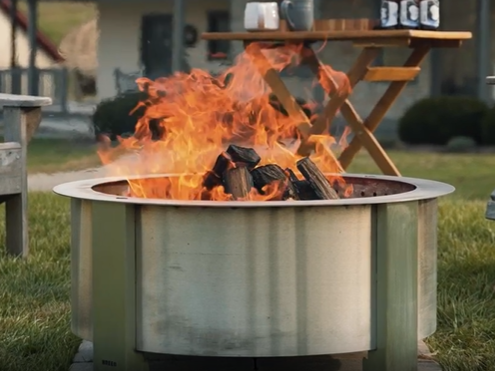 But as a former drummer, I'm a sucker for patina. The cheaper finish on this one is called "Corten Steel" and it comes in a blue steel finish that naturally turns into that sweet patina look over time. To me, this is the most visually impressive smokeless fire pit on the market. 
Lastly, Breeo manufactured this in the heart of Pennsylvania right here in the good old USA. Which makes me much more inclined to buy it. You can grab it from Home Depot for a really good price online.
Tiki Smokeless 25 inch Patio Fire Pit
Tiki is a classic brand who is best known for their torches (which have since gotten negative press). Anyways, they made a really nice, inexpensive smokeless fire pit that is great for the average homeowner.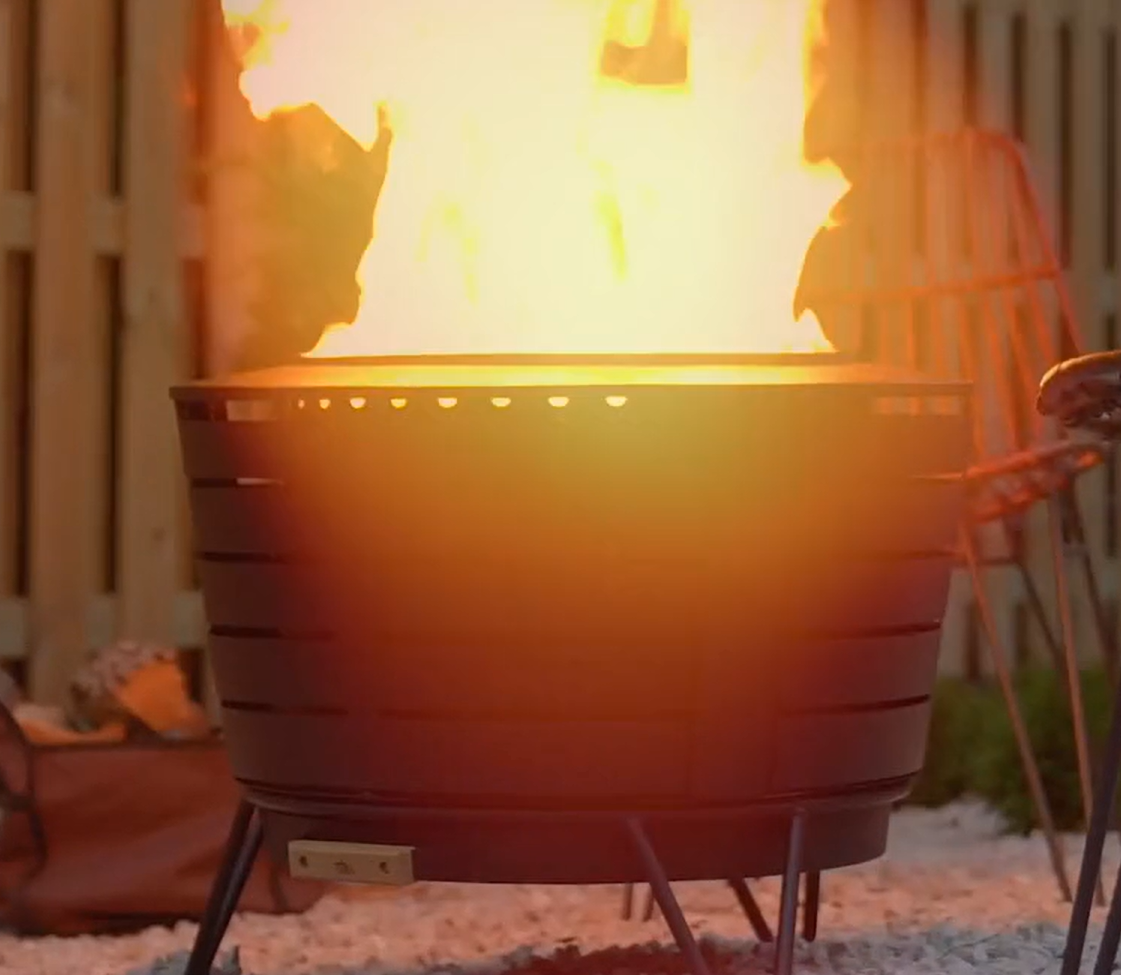 The total smokeless fire pit is about 25 inches wide, but the opening is a smaller 16 inches, which makes it much less versatile than the Breeo X Series smokeless fire pit above, but still great for conversations in the backyard. This is a great smokeless fire pit for the casual fire enjoyer that is just looking for a small, easy-to-use fire pit in the backyard. 
It comes with a convenient ash tray at the bottom that you can pull out and dump. I like that it is lightweight, easy to move around your patio, and made of super durable 16-gauge steel. 
All-in-all, this fire pit is the best smokeless fire pit for small patios and can be bought at Home Depot for a great price.
East Oak 29 inch Smokeless Fire Pit
The East Oak 29 inch smokeless fire pit is an absolute classic, elegant choice. It is entirely stainless steel and either comes in the raw steel or black color. You can also grab other sizes, but I think 29 inches is on the bigger side and easier to build a gathering around than the next size down (21 inches).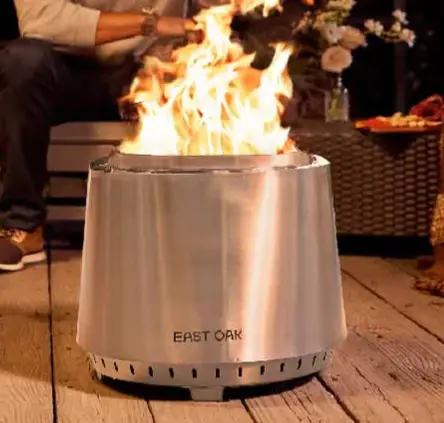 East Oak is a big fan of the shape of their smokeless fire pit, which is more trapezoidal (it is wider at the bottom than at the top). Their belief is that this pulls more air flow in from the bottom, allowing for oxygen which burns the wood hotter, which makes for even less smoke than other smokeless fire pits. 
This smokeless fire pit is best for large gatherings because it is extremely solid, larger than the other options, and is likely going to produce less smoke. 
For me, this is a little oversized for me and my family of five and doesn't have any features that allow me to cook from it. It is also a bit more expensive than the others but can be found for a pretty good price on Amazon.
Common smokeless fire pit questions I get
Here are the most common questions I get (and ones I've had in the past) about smokeless fire pits.
Is it worth buying a smokeless fire pit?
If you absolutely hate getting smoke in your eyes and smelling like a bonfire, then a smokeless fire pit is DEFINITELY worth it.
Can you have a smokeless fire pit?
Yes – they make many smokeless fire pits that are awesome for those that don't like to get smoke everywhere.
Can you put a smokeless fire pit under a covered patio?
You can put a smokeless fire pit under a covered patio, but will want to make sure it is very well ventilated.
What do I need to know about smokeless fire pit?
Smokeless fire pits burn hotter and pull in more oxygen, which recirculates and burns up the smoke, leaving much less smoke in the air.
What is the best brand of smokeless fire pit?
My favorite smokeless fire pit is the Breeo X Series smokeless fire pits.