The best garden hoses for small yards are not the same as the one you would get for any old backyard. 
There are a few things about small yards like townhouses or small lots that are markedly different and require distinct features.
And I bet your realtor didn't tell you much about yard work at your new home. 
You may be here because you tried to bring your old garden hose and reel and have nowhere to put it. Or you may be lucky and did some research before learning the hard way. 
Either way, let's get into it. Here are the things you need to look for in a garden hose in your smaller yard. 
We spent 28 hours reviewing the specifications and using popular garden hoses to bring you the most comprehensive list of hoses that are great for small yards. 
Final ranking:
Best flexible hose: AUTOMAN Garden Hose
Best coiled hose: Water Right 300 Series
Best hose for a townhouse: Better Boat Coiled Boat Hose
Why we review lawn tools
The reason we started this website in the first place was because we had so much trouble trying to find reasonable, understandable, honest reviews for lawn equipment. And it's not cheap! After hours and hours of research, trying products and returning them, and messing up our yards – we started this site.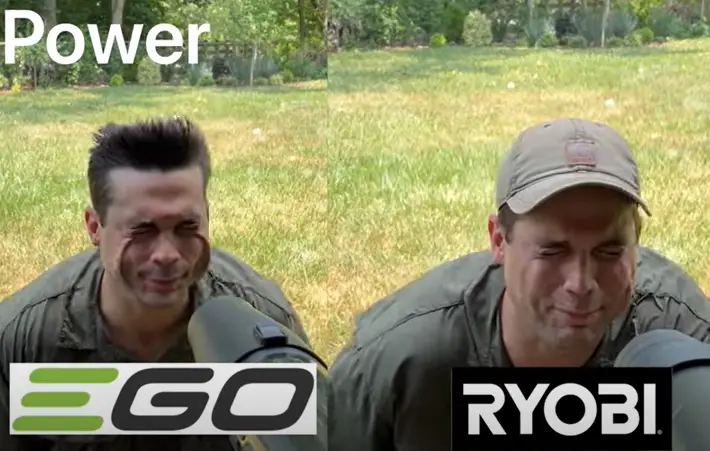 As people who had to learn the hard way, we want you to know exactly what you are signing up for before you purchase a piece of equipment. That's why we are committed to providing honest, easy-to-understand reviews that mean something.
Garden hose types
When you are looking for a garden hose, there are going to be a lot of different varieties to choose from. Let's break them down:
Flexible hoses

These hoses are, well, flexible. They expand or shrink given the water pressure inside of them. Flexible hoses often start as small, lightweight hoses that can expand to a larger size hose. In my experience, they don't often have the same water delivery speed or power that a typical PVC hose has.
Flexible hoses are flooding the marketplace and are extremely popular. They also work well for places like townhomes (more on that later).

Coil hoses

Coil hoses are similar to flexible hoses in that they are lightweight, easy to store, and light-duty. They don't have a very long reach and often have a sturdier, less flexible material more akin to a PVC hose. These hoses are also great fits for townhomes because they are easy to store, don't take up much space, and are easy to transport. 

PVC hoses

PVC hoses are your standard garden hose you think of. The kind you used to drink out of as a kid. These are great for normal houses and big backyards, but are not necessary for townhouse owners. In fact, they get really annoying, take up too much space, and are difficult to transport.
Now that you know the main types of hoses, let's take a look at what attributes make up a good hose for a small yard. 
Things to look for in a hose for small yards
We are finally getting there. With a smaller yard, you definitely want a hose that isn't too much. You may only have a small section for a garden, so fill it with plants and flowers, not a coiled up hunk of hose. 
When I am recommending a hose to my small-yarded friends, I always point them away from typical PVC hoses and towards either a coiled hose or a flexible hose. 
You want either of these because they are smaller, lightweight, and extend to meet any further needs. While they sound functionally the same, they still have some major differences.
Check out our web story highlighting how great these hoses are.
Coiled vs. Flexible hoses
Coiled and flexible hoses have some very key differences. Let me break them down for you:
Storage

Flexible seem really nice because they come in a shrunken little tube that makes it seem easy to store. In reality, storing a flexible hose is like trying to put a plate of cooked spaghetti back into the box. After disconnecting the hose and trying to transport a flexible hose, it will fall apart, swing around, and get water places you didn't want. When it comes to storage, coiled hoses perform much better. 

Usability

Coiled hoses are very easy to use. Simply turn on the water and pull. When you're done, simply place it back where you got it. The natural tension in the hose does the work. Flexible hoses are loose and floppy like regular PVC hoses, so will have to be rolled up or thrown into a box like some old Christmas lights.

Power

Again, I think coiled hoses have superiority here as well. One thing (probably due to physics or something) about flexible hoses is that a lot of the power and pressure coming out of your spigot is lost trying to maintain the expandable, flexible hose's opening. PVC hoses and coil hoses have structural integrity so that the water power can come out of the hose, not against the inside walls. 
The clear winner here is coiled hoses, but since flexible hoses are so popular and beloved (thanks infomercials!), then I will make sure to rank a few on my list. 
9 Best Garden Hoses for Small Yards: 2022 edition
Here we go! Let's get started buy saying unless you're getting a flexible stretchy hose, then you need a good hose reel. We recommend the Eley Hose Reel (which we reviewed here).
9. Flexzilla Garden Hose
Okay you may be wondering why I put a normal-looking hose on the list. The Flexzilla Garden Hose is simply the best regular hose in the world. If you are on a property that is borderline small to medium, just go ahead and get the 25 foot version of this hose. It is truly remarkable in that it doesn't kink, is super flexible, and durable. 
Check out our full review of the FlexZilla hose here.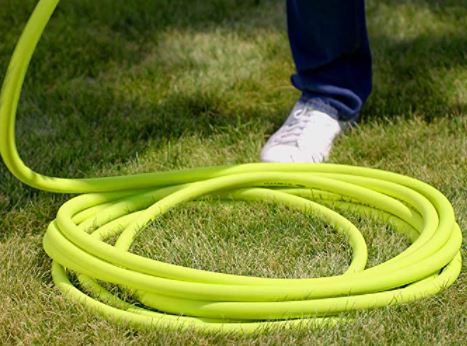 You can read our full review of the Flexzilla Garden hose here and grab the 25 foot version on Amazon here.
8. INNAV8 Expandable Garden Hose
This garden hose is one of the lighter hoses on the market. One thing I noticed about it (I owned it for a short period of time) is that the actual hose opening is super small. The opening is like the size of a pen. Needless to say, the power and size of the water coming out is a joke. 
This is great for people who are doing light watering around the house, but that's about it. It comes in at one of the most affordable prices (under $20 last time I checked).
Check the price on the INNAV8 expandable garden hose by clicking here.
7. Pocket Hose Original Silver Bullet
The Pocket Hose Original Silver Bullet is a nice expandable, flexible hose with non-lead endings. It is marketed as a "safe" hose for drinking or supplying water to animals. This is otherwise a very standard flexible hose that looks to have a pretty small opening (similar to the INNAV8). 
It does have a spray nozzle that the INNAV8 does not, so can take you a bit further in things like car washing or window washing. I went to check this hose out in person and can tell you, it is super lightweight. I am holding the 100ft version in the picture below.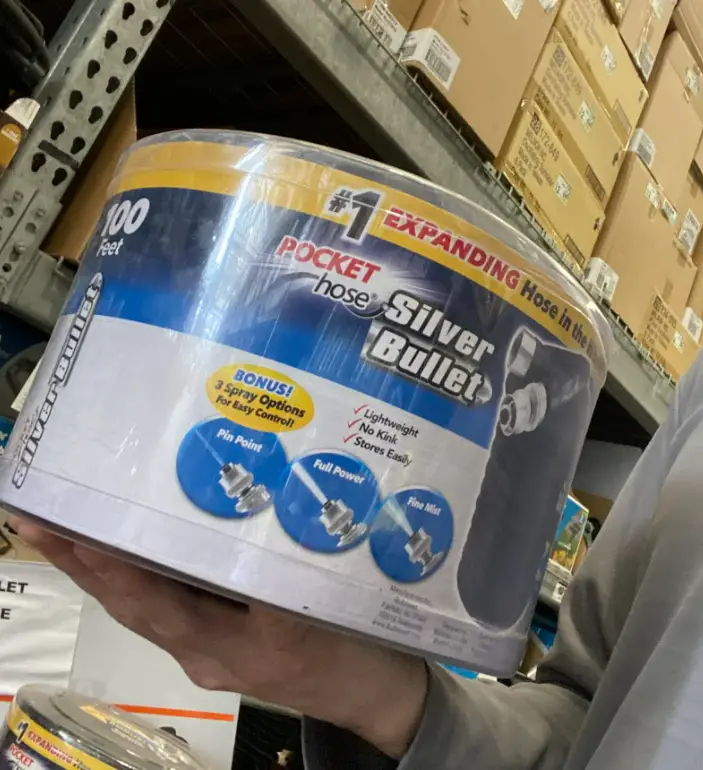 As you can see from the different nozzle types, even the most "wide-open" version of the nozzle opening is still pretty small. This is super common with flexible hoses.
The Pocket Hose Original Bullet is also great for pet owners who want to give their loved ones a drink from a lead-free hose. Start quenching your pets thirst today by grabbing a Silver Bullet hose for a surprisingly low price on Amazon.
6. Flexi Hose with 8 function nozzle
Have to be 100% honest here – the Flexi Hose has over 31 THOUSAND reviews on Amazon. Which means a LOT of people like this hose. The Flexi Hose is great for people looking to do some light watering around their garden or even some car or pet washing. 
I was looking for a bit more power when I owned it, so ended up returning it. What really puts the Flexi Hose above the other flexible hoses on this list is the 8 function nozzle. While you only need a few functions, the choices here are great and allows for a lot more customization when using the hose. 
One thing that is cool about  the Flexi hose is that not only does it expand as water moves through it, but it can "stretch". Unfortunately, the stretching means the opening of the hose is about the size of a pencil. For this reason, my wife returned it and we went with a bigger hose. 
You can join the 30k+ other Flex Hose lovers by grabbing it on Amazon (and looking at the crazy reviews over there as well).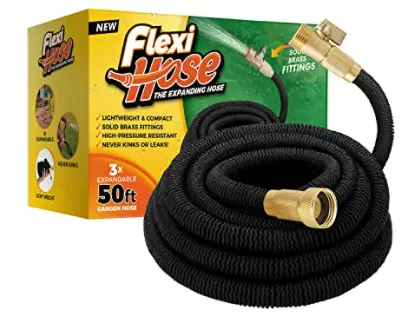 5. EASYHOSE Garden Hose – 25ft
What is better than 8 functions on a nozzle offered by the Flexi Hose? Well – the 9 nozzles on the EASYHOSE. Number of nozzle functions aside, I like the EASYHOSE slightly more than the Flexi Hose. Honestly, one thing that I like more about the EASYHOSE is that it is a bit tougher. It has a braided exterior that is less flexible, but easier to handle and more durable. 
The EASYHOSE has far fewer reviews on Amazon, but still comes highly rated. It also comes with a mount and storage bag, which make everything easier. As I've mentioned previously, these are counterintuitively tough to store. You think the small, compact nature would be easy to store, but in fact it's like a big wet noodle with horrible weight distribution.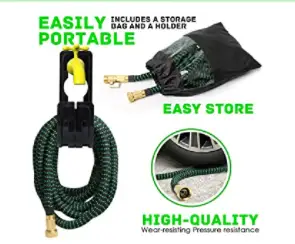 You can upgrade your yard to the EASYHOSE today at Home Depot or wherever you can find it! We recommend this one if you are looking for a better storage solution than the other flexible hoses..
4. Better Boat Coiled Boat Hose – 15ft
I know it seems silly to buy a hose for your yard called a "boat hose". But the boat title is simply a marketing gimmick. This hose is great for a property like a townhouse. Perfect for washing off the garage, your car, or just about anything else (boat included, ha!). 
But this hose is going to be one of the easiest to store and use. It is super short, durable, and easy to store. Like most coiled hoses, it takes a while to break in and relieve some of that coiled tension, so you may be a little constrained on the full 15ft to start. For the smallest of properties (like townhomes), this hose would be one of my go-tos. I actually recommended this one to my parents when they moved into their townhome. 
The Better Boat Coiled Boat Hose also comes in a 25 ft version as well, making it much more versatile than just for boats and recreational vehicles. If you are a townhome owner, I can't recommend a better hose for you.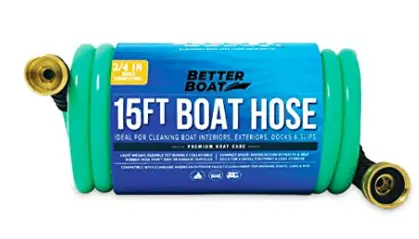 You can find it at a bunch of places, but Amazon currently has it listed as "Amazon's Choice", so we recommend grabbing it there.
3. GHN-06 Heavy Duty EVA Recoil Garden Hose
We are finally in the top three! While not a household name, GHN-06 comes from Instapark. It only comes in a 50 foot version and is actually on sale right now on Amazon (and is an Amazon's Choice pick). 
A benefit of this hose is that the whole thing only weighs 2.5 lbs. It is super lightweight, easy to carry and transport, and can extend up to 50 feet. Pretty crazy to think it can be 1.5 feet long or 50 feet long. 
This hose has another added benefit – a nozzle. 
As far as heavy-duty coil hoses go, this is definitely on the less durable side. Some of the other product reviews I've seen show pictures of tears or leaks that occur. Honestly, I think you can do better (see below) if you want a heavy duty coil hose.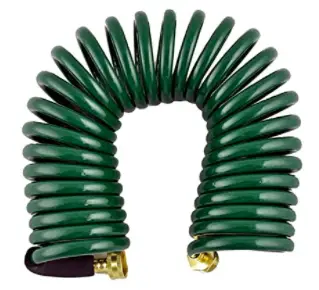 2. AUTOMAN EVA Garden Water Hose – 25 or 50 ft
The AUTOMAN EVA hose was definitely in consideration for the number one garden hose for small yards. The reason? It was almost 2,000 5 star reviews on Amazon. And it is great!
One benefit of this hose is the reinforced tips with a metal coil, spring-looking thing. This helps protect the end of the hose from degrading and falling apart over time. I like that this hose also comes with a nozzle, but this isn't a differentiator from its competition.
Another benefit of the AUTOMAN EVA is the 100% money back guarantee. Don't waste money getting a flexible hose that you toss in a few months, go with a reliable coil hose. 
Grab this hose in 25 or 50ft versions. The 50ft is obviously the better value at only $7 more than the 25 foot version.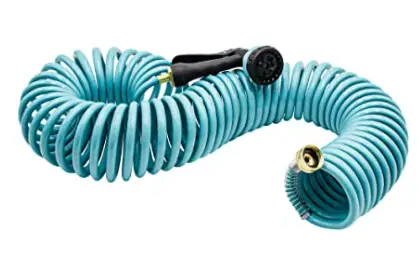 1. Water Right 300 Series Coil Garden Hose
A few things set the Water Right 300 Series Garden Hose apart from the rest. The first benefit of the Water Right 300 Series are the straight tail leads on either side of the hose. These are about a foot long of straight, rigid hose that allow for easier connectivity and extension.
Typical coiled hoses have the coils go all the way up to the end and some have a mini metal coil at the end to protect the hose integrity. A benefit of this hose is that it is straight on both sides, so the coils don't get in the way of anything important.
Another benefit of this hose is that it is made in America from super durable equipment. That means nobody is buying some cheap material from overseas, putting their logo on it, and shipping it to you. 
This hose will not tangle despite stretching all the way up to 75 ft.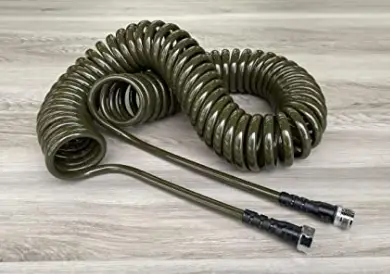 We ranked this hose number one due to all of the benefits – particularly the straight tail ends on both sides of the hose. 
Get one of these for a great price on Amazon and start hassle-free watering tomorrow.