The best fire pit tables all have a few things in common. When I look for a new fire pit table, I have the following criteria in mind: heating power, design, durability, and cost.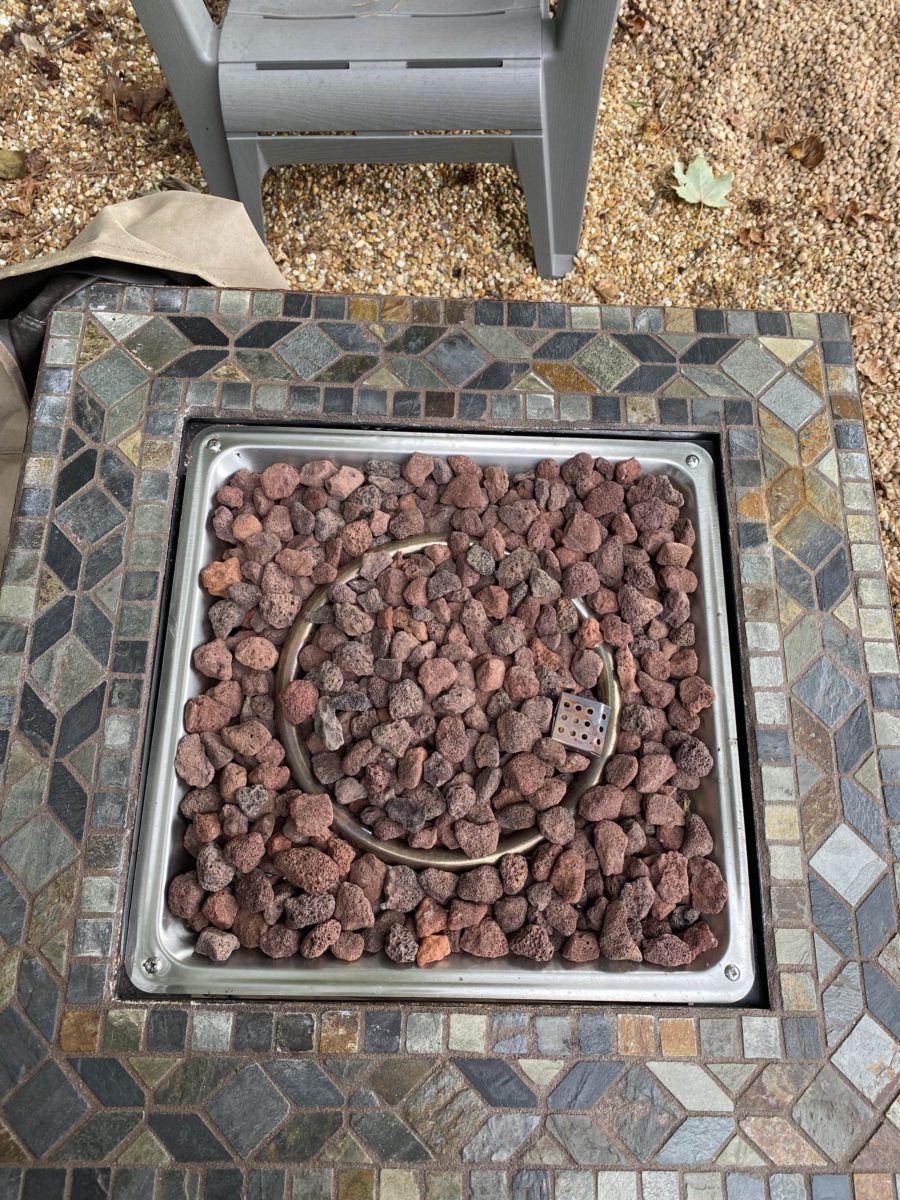 Today, I will break down my experience buying fire pit tables the hard way. I set off on a search to find the perfect one when I first moved into my house and made a few mistakes along the way. Here's what I found along the journey.
The three top fire pit tables according to my experience:
Ciays Propane Fire Pit Table 28 Inches
Nuu Garden 28 inch Square Metal Fire Pit Table
Dextrus 43 inch Gas Fire Pit Table
My experience using fire pit tables
A fire pit table was one of the first things I purchased when I moved into my first home. The previous owners had a paver patio in the corner of the yard and left it abandoned when they moved. I couldn't just leave it there, surrounded by chairs, with nothing in the middle.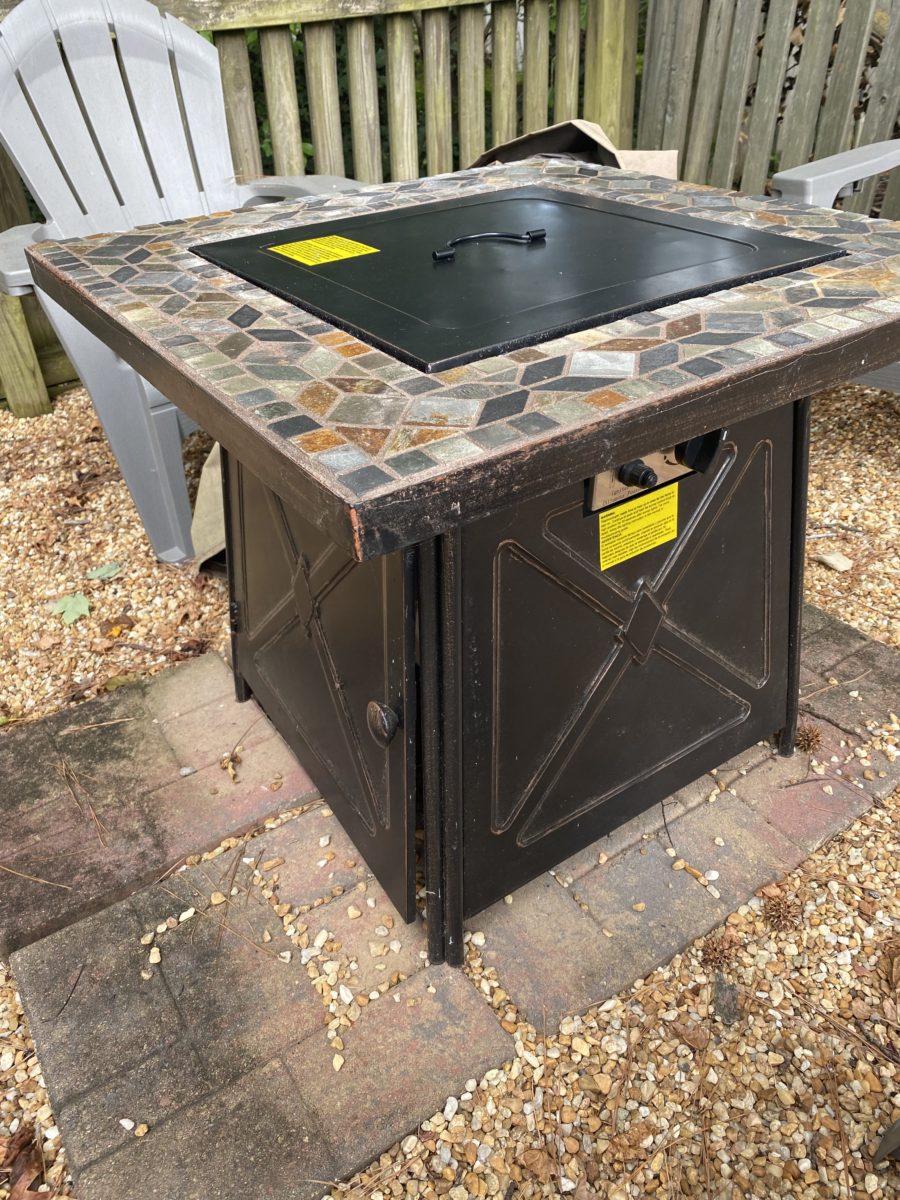 That's the beauty of fire pit tables. They bring people together by design. Ever notice how it isn't possible to have an awkward moment around a fire? It can be totally quiet for minutes at a time with people being totally content sitting and watching the flames dance. 
That's why I love helping my friends and family find fire pit tables and outdoor furniture that can serve as places for people to gather, have great conversations, and enjoy their time together.
If you want to level up, check out our ranking of the best smokeless fire pits.
3 Best Fire Pit Tables: 2023 Ranking
When I was first in the market for fire pit tables, I spent a ton of time researching all the different elements that made some better than others. I wrote a full guide to outdoor patio heaters, but also highlighted some specific things I look for in fire pit tables at the end of this post.
Ciays Propane Fire Pit Table 28 Inches
I put the Ciays Propane Fire Pit Table as the number one best fire pit table for a few reasons. For starters, it is unbelievably priced. Secondly, it has serious heating power at 50,000 BTUs. While fire pit tables aren't notorious for being super duper hot, they can still provide a good alternative to a normal wood-fueled fire pit.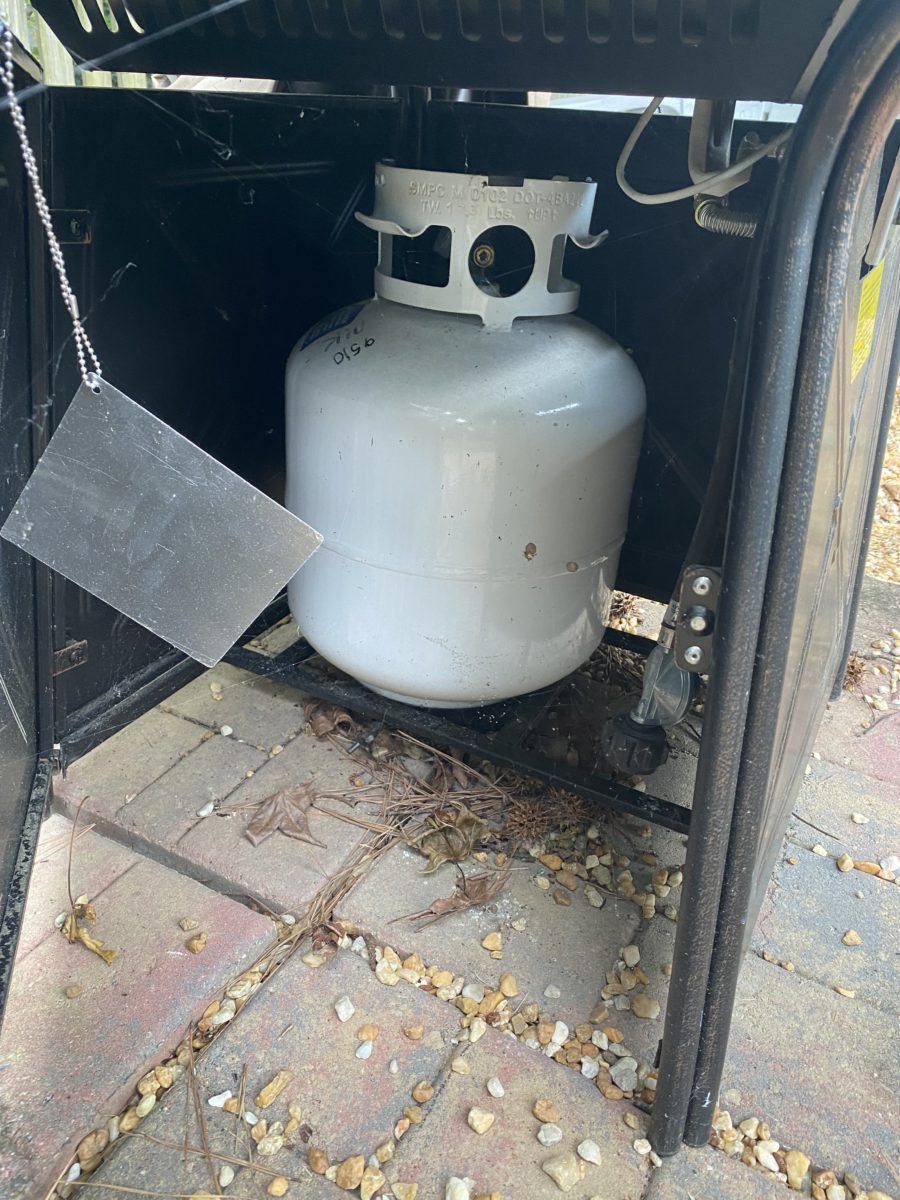 This was my first fire pit table I ever owned. As a new homeowner, I was assembling something new every day for the first few months I lived in that house. This one was relatively straightforward to set up, I was able to connect the propane tank from my grill to get it started, and it fired up with ease. 
Since then, I've hosted countless backyard gatherings where folks have circled around this inexpensive fire pit, set their drinks on it, and enjoyed the conversation together. For the price, it simply cannot be beat.
I got mine on Amazon for a really good price and it has actually decreased in price since I bought mine in 2019.
Nuu Garden 28 inch Square Metal Fire Pit Table
I put the Nuu Garden 28 inch square metal fire pit at number two on this list because it is identical to the Ciays fire pit table above, but is slightly fancier and is slightly more expensive. 
At 50,000 BTUs, this thing packs a serious punch and sends up a little fireball. Lucky, the heat adjustment on this is super variable, so you don't need to burn up the entire yard when you're using this – you can set it on a low setting and just enjoy the sights. 
This one has all the same usability as our number one fire pit table as well. Super easy to start, uses propane, and has the cool looking lava rocks that last forever. The main difference between this fire pit table and the Ciays is the fancier surface on this one. It has a nice looking surface that appeals to a fancier crowd and fits in well with a more upscale backyard set up.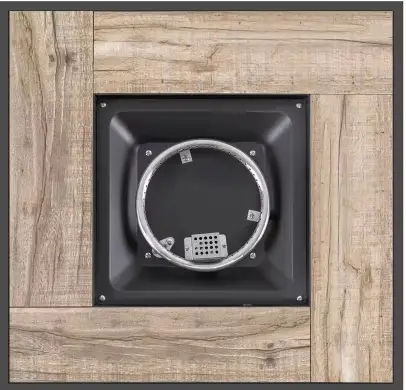 This fire pit table is available at Home Depot for a great price, where you can have it shipped to your house or order online and pick it up in store.
Dextrus 43 inch Gas Fire Pit Table
I have got to admit something. This fire pit table is amazing. I kind of wish I would have bought it, but it was a bit out of my price range at the time. But it also wouldn't have fit my set-up very well. 
This 43 inch fire pit table is rectangular shaped, making it great for decks and patios, but not as great for square or circular set ups as it would leave some folks further away from the flame. This one is super sleek in design, with a nice ribbon of flame that cuts across the middle, lava rocks, and a nice metal paneling on top that makes it look very nice.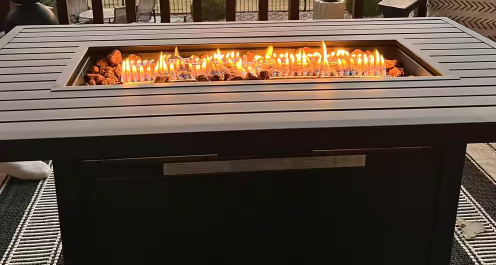 Another positive about this fire pit table is that it can also double as a regular coffee table whereas the other fire pit tables are really for one main purpose: fires. This table would have been number one if it was a slightly lower price point, but since it is almost $100 more than the others, I had to move it down to number three on this list.
This fire pit table is also available at Home Depot for a great price.
What I look for in a fire pit table
When I'm perusing the aisles at Home Depot or Lowe's, I'm always checking out fire pit tables. I have a pretty standard set of criteria I use to evaluate whether or not it's good. Check out my thought process below.
Heating Power (BTUs)
Alright, let's talk about heating power, measured in BTUs (British Thermal Units). When it comes to a fire pit table, you want it to warm things up, right? I know you've been to a hip outdoor bar with super hoppy beers and they had a fire pit table that looked cool but basically provided no heat.
A higher BTU rating means more heat, and that's a good thing if you want to stay toasty on chilly evenings. Think about the size of your outdoor space – a larger area might need more BTUs to keep everyone comfortable. Personally, I've found that around 50,000 BTUs is a sweet spot for most gatherings. It throws off enough heat without turning your gathering into a sweat fest. And if you have kids that want to make some s'mores – you can get it done with one of these.
Design and Aesthetic Appeal
Now, let's get to the fun part – design and looks. Your fire pit table should not only be a source of warmth but also a stylish centerpiece for your patio or backyard. I've learned that there's a wide range of designs out there, from sleek and modern to rustic and cozy. It's all about your personal style and how it fits with your outdoor décor. Look for fire pit tables that match your vibe – I prefer a nice classy rustic fire pit that you can set a drink on.
Durability
Durability is key when it comes to outdoor furniture. Look for materials like rust-resistant steel, sturdy aluminum, or weather-resistant cast concrete. A high-quality fire pit table can withstand the elements and keep on blazing for seasons to come. It's an investment in comfort and ambiance that you'll be thankful for down the road.
It is also important to keep these fire pits covered. Many will come with a metal cover for the actual flame portion, but I also recommend getting a weather resistant cover that will protect the entire unit.
Price
Fire pit tables come in various price ranges, so it's essential to find one that doesn't burn a hole in your wallet (pun intended). While you can find some budget-friendly options, remember that quality, size, and durability often comes with a higher price tag. I think you can get the perfect fire pit for under $500.